To the average person, there is nothing especially interesting about a bank. Like the post office or DMV, banks are often considered important institutions we rely on, but not exactly our favourite places to visit. Despite its mundane veneer, however, the banking industry is quietly undergoing a radical transformation, and how you interact with your bank or credit union will be dramatically impacted.
John Cooke of BankFive in Fall River, Mass., told GOBankingRates that in the next 10 years, "most delivery channels will be moving into the digital realm, especially paper-based account services such as paper checks, paper statements, passbook accounts, etc."
Additionally, as more transactions are completed via debit, mobile and person-to-person (P2P) payment apps, Cooke said these technologies will replace many services commonly performed in-branch.
"These trends won't just be adopted for urbanites," he added. "As branches consolidate in the U.S., more rural areas may be located further from local branches. Their reliance on such technology will be crucial for everyday banking."
So what does this mean for the future of banking? The emergence of cost-effective, convenient digital services combined with shrinking branch numbers will contribute to the extinction of several common banking services over the next several years.
Related: 4 Banking Trends to Expect in the Next Decade
5 Banking Services About to Disappear
1. In-Branch Services
Banks and branches have always gone hand-in-hand, but the traditional, brick-and-mortar bank branch is beginning to die off.
Ken LaRoe, CEO of First Green Bank, explained, "With the ability of bank customers to deposit checks with the click of a button on their smartphone, transfer money between accounts and monitor all of their account activity online less and less, fewer customers are actually stepping foot in traditional bank branches every year."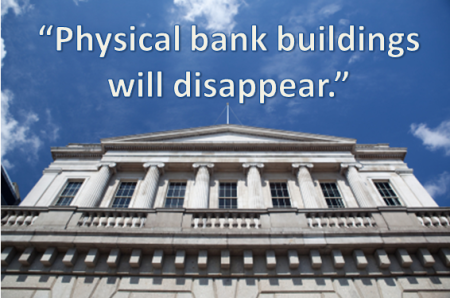 According to the The Wall Street Journal, the number of U.S. bank branches has steadily declined since 2009, with banks cutting a net 1,487 branch locations in 2013 alone.
"While online banking still seems foreign to the older demographic today, in 10 years this will not be the case. The younger demographic already appreciates the convenience of online banking, and the transition of not physically being able to go to a bank building will not be a problem. As it is today, our smartphones allow us to virtually walk around with a bank in our pocket," LaRoe concluded.
2. Check Writing and Cashing
A February 2014 poll conducted by GOBankingRates found that 38 percent of respondents never write a check, while just over 16 percent reported they only write a personal check once a month (see the full poll results here>>).
Greg Meyer, community relations manager for Meriwest Credit Union, explained, "With the proliferation of online banking and chipped debit cards, there will be a further reduction of printed checks being used to pay for items." Meyer projected that online banking bill pay, mobile wallets such as Amex Isis and Google Wallet, as well as P2P systems will eventually replace checks, noting that less than 7 percent of banking transactions today involve a paper personal check. "Many credit unions are already offering a type of P2P payment system for their members," Meyer noted.
3. Paper of Any Kind
Paper is not only less convenient than digital options, it's wasteful and costly for both financial institutions and customers. From deposit slips to paper statements, to any type of "snail mail" correspondence, banks and credit unions are looking for ways to cut any and every paper-based service in favour of online and mobile options.
In fact, Meyer predicted even paper loan applications will likely be gone in 10 years as well. "All borrowing will be applied for online," he said. "When getting a home loan, for instance, the realtor or mortgage rep will play the role of the project manager, ensuring that property appraisals, inspections, applications and documentation gets to the right online place at the right time in order to facilitate the closing of the deal."
The move from paper to online communication, transactions and applications helps eliminate the costs associated with printing and postage, as well as streamlines day-to-day banking operations. Soon enough, bank customers won't see a single sheet.
4. Traditional Bank Tellers
Today's tellers facilitate in-branch services like deposits, withdrawals and other basic needs of customers. They're by no means financial experts, existing to help customers with basic banking activities. However, as the number of physical bank branches declines and simple transactions move online, the role of the teller in financial institutions will shift.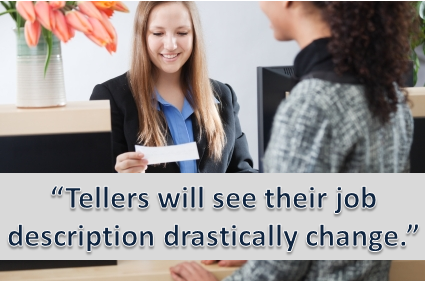 "Overall, tellers will see their job description drastically change, as the number of customers actually stepping foot in the bank continues to decline," LaRoe said. "Over the course of the next 10 years, the role of the teller will dramatically change and ultimately morph into an all-encompassing hub of information and knowledge for bank customers."
Related: 5 Secrets Your Bank Doesn't Want You to Know
5. Face-to-Face Asset Management
Most banks and credit unions offer asset management services in addition to basic accounts and loans. Traditionally, asset management clients meet with a financial planner to discuss their financial situations in depth and plan a road map for the future. This in-person service is likely to disappear along with most other face-to-face communications.
Simon Moore, CFA and chief investment officer for FutureAdvisor, said "One change we see coming for banking is the rise of digital asset management. Whereas previously you may have spoken to a private banker to manage your portfolio, you can now have it done and implemented online."
Although this shift might be unsettling to many bank customers, the benefits are clear. "This saves you both time and money … with costs being a third to a quarter of traditional asset management," Moore said. He added that the service asset management clients receive is often actually better, "as the portfolio can be constantly monitored by algorithms for opportunities for things like tax-loss harvesting."
Additionally, Moore pointed out that banks will be able to take on clients with smaller portfolios thanks to the greater savings and efficiency of moving online, opening up the opportunity to receive affordable financial planning from a professional.
As Mary Shelley famously wrote, "Nothing is so painful to the human mind as a great and sudden change." Indeed, these coming shifts in how we interact with financial institutions will likely be met with resistance by many. But those who accept change in the banking industry and adopt new technologies will be the first to reap their benefits.
By Casey Bond October 22, 2014
http://www.gobankingrates.com/banking/5-bank-services-obsolete-10-years/