A trio of criminals cracked into the safe deposit boxes of two New York City banks and acquired $5m (£3.8m) in cash and diamonds in what resembled an intricate Hollywood heist, US federal and local authorities announced on Tuesday (26 July).
The night-times burglars of the Brooklyn and Queens banks were tracked in a "meticulous" investigation that traced wood used to a Home Depot store and blowtorches utilised to penetrate the bank roofs and vaults back to a Brooklyn welder, said New York Police Department Commissioner, William Bratton, at a Manhattan press conference.
He said the heists that occurred in April and May 2016 reminded him of one his favourite bank job movies, Heat, in that the operation was carried out by a "crew that was well organised, meticulous, and elusive to law enforcement."
He added: "They left very few clues of the heist. Our crime scene team hunted for every shred of evidence."
FBI New York Field Office Assistant Director-in-Charge Diego Rodriguez agreed that the heists had the "makings of a movie plot."
In the Queens bank the men used a ladder to scale to the top of the building to break into the bank and vault. They left behind on the roof empty mangled safe deposit boxes, grinding wheels and a fuel tank for the blowtorches. Police also found a black plywood hut that the burglars apparently built to shield themselves from view, NBC reported.
In Brooklyn, the burglars cut interior vault alarm wires along with phone wires a block away, authorities said. In that case they first busted into an empty store next door, which became a kind of headquarters where they stored supplies. They then broke through the ceiling and into the bank vault with blowtorches.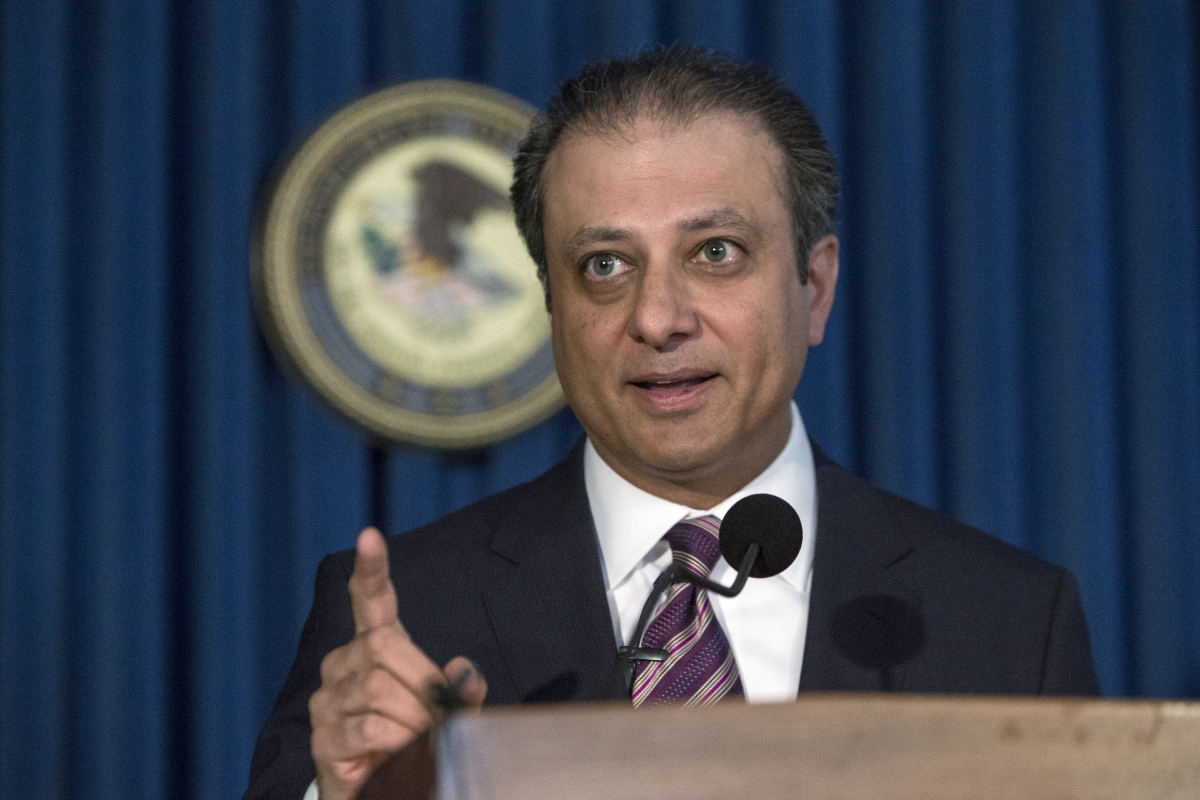 Preet Bharara, the US attorney for Manhattan, said the thieves' safe-deposit box heist took people's "memories, leaving in their destructive wake gaping holes and looted vaults."
Reuters
"They found exactly what they were looking for — literally bundles of cash" in the Brooklyn bank, over $330,000 (£250,000), "as well as valuables customers kept safe in safe deposit boxes in the vault," said US Attorney Preet Bharara. They not only stole cash and jewellery but rare coins and valuable baseball cards, said officials. Bharara said the thieves took people's "memories, leaving in their destructive wake gaping holes and looted vaults."
In the Queens bank the thieves grabbed some $300,000 (£230,000) in cash was stolen, along with $4.3 (£3.3m) million in jewelry, diamonds and other valuables.
Charged with conspiracy to commit bank burglary and bank burglary were Michael Mazzara, 44, Charles Kerrigan, 40, and Anthony Mascuzzio, 36, all of Brooklyn. Mazzara's attorney, Sam Talkin, told the Associated Press that Mazzara denies the charges and maintains his innocence.Representatives for the other two men were not immediately available.
Investigators said they relied, in part, on telephone and financial records, mobile phone data and a confidential source to build their case against the men. Evidence will include video surveillance footage of the suspected burglars as they prepared for and carried out the burglaries, and of two of them buying supplies, officials said.
July 27, 2016 03:05 BST
Source: http://www.ibtimes.co.uk/straight-out-hollywood-new-york-safe-deposit-thieves-grab-5m-cash-diamonds-following-1572704#slideshow/1536595